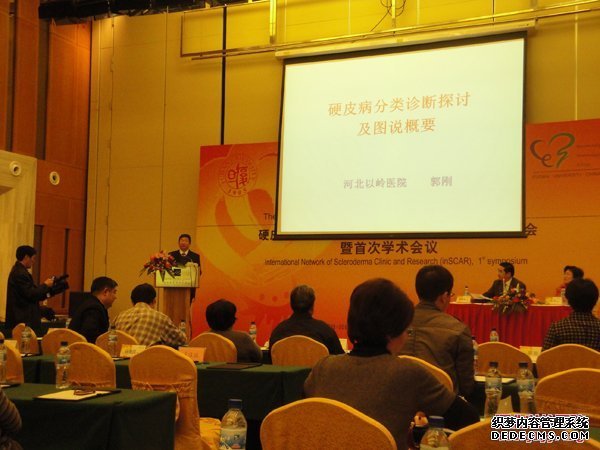 February 2011 18-20 Fudan University held its sixth International Forum of Rheumatology Grand Metropark Hotel Suzhou. Guo Gang, Zhong Cheng was invited from participants.

Meanwhile held scleroderma clinical and research International Collaboration (inSCAR) Inaugural Conference for the first time. Held a grand ceremony. Held a press conference, Wen Wei Po, Liberation Daily, Xinmin Evening News, Medical Tribune and other news media to participate and eight were reported.

inSCAR inaugural meeting read out a congratulatory message academician Wu Ling. Original data retention congratulatory reserved.

Participants experts, including China, the United States, Spain, Japan, Iran, Hong Kong, Taiwan and other places of experts. Including expert leadership of Shanghai Municipal Health Secretary, vice president of Fudan University, Huashan Hospital, vice president and so on.

Guo Gang, director invited to do "scleroderma diagnosis and differential diagnosis resolution" seminars. Lectures also introduced our department scleroderma treatment characteristics and hospital profiles, responded enthusiastically, domestic and foreign participants widely recognized expert.

Guo Gang, director of clinical and research as scleroderma First International Collaboration Executive Committee. From the University of Texas Houston Health Center scleroderma most authoritative international expert Maureen Mayes presidency.

inSCAR is the first international clinical and research on scleroderma international cooperation organization, is conducive to in-depth study of the pathogenesis of scleroderma through international collaboration, genetic background, and effective drug screening, diagnosis and treatment to improve international scleroderma.

Our department lectures by the participants as well as adding inSCAR, significantly improved the reputation of rheumatological diseases hospital in the treatment of scleroderma, etc., expanding the academic influence.

I Kingspeed Graduate School of Life Sciences, Fudan University, Key Laboratory of Contemporary Anthropology, the Ministry of Education to conduct collaborative research, the main research animal model study the mechanism of traditional Chinese medicine and pulmonary fibrosis, scleroderma and scleroderma pulmonary fibrosis.